The unique, formable design of Hyster-Wear Wafter Strips are very similar with Chocky wear bars, the same length of 240mm, while thickness of them is only 12mm. Just as Chocky wear bars, the grades and sizes of this shape can also be customized as per the clients specific need. Applications for Wafer Strips are wide and varied, ranging from specific wear protection on buckets for loaders, excavators and draglines machines, or for weld-on hammer tips for the re-cycling industry, or chute linings and rock box edges.
They are easy to use and install. They can be bent, cut and formed to suit different surfaces.
The standard thickness is 12mm, length is 240mm, width could be from 25mm from 65mm. We can also produce according to your special requests.
They are two types of Wafer Strips, notched backing type or non-notched backing type.
Notched types are more easy to be bent, cut and formed to suit different applications.
ITEM NO.
Size(mm)
Dimension
N.W(kg)
A
B
C
D
WS 25
240x25x12
240
25
6
6
0.6
WS 40
240x40x12
240
40
6
6
0.9
WS 50
240x50x12
240
50
6
6
1.2
WS 65
240x65x12
240
65
6
6
1.6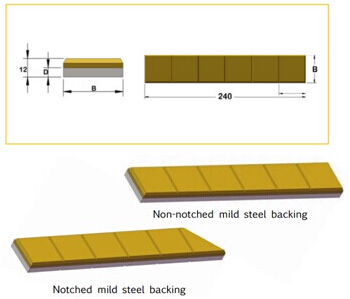 **Other dimension or thickness of 25mm is also available against your requirement.