The unique, formable design of Hyster-Wear chocky bars are available in various lengths, grades and sizes and can also be customized as per the clients specific need. Applications for Chocky Bars are wide and varied, ranging from specific wear protection on buckets for loaders, excavators and draglines machines, or for weld-on hammer tips for the re-cycling industry, or chute linings and rock box edges.
They are easy to use and install. They can be bent, cut and formed to suit different surfaces.
The standard thickness is 23mm, length is 240mm, width could be from 25mm from 150mm. We can also produce according to your special requests.
They are two types of Chockblocks, notched or non-notched backing.
Notched types are more easy to be bent, cut and formed to suit different applications.
ITEM NO.
Size(mm)
Dimension
N.W(kg)
A
B
C
D
CB 25
240x25x23
240
25
15
8
0.9
CB 40
240x40x23
240
40
15
8
1.5
CB 50
240x50x23
240
50
15
8
1.9
CB 65
240x65x23
240
65
15
8
2.5
CB 80
240x80x23
240
80
15
8
3.2
CB 90
240x90x23
240
90
15
8
3.5
CB100
240x100x23
240
100
15
8
3.9
CB 130
240x130x23
240
130
15
8
5.3
CB 150
240x150x23
240
150
15
8
6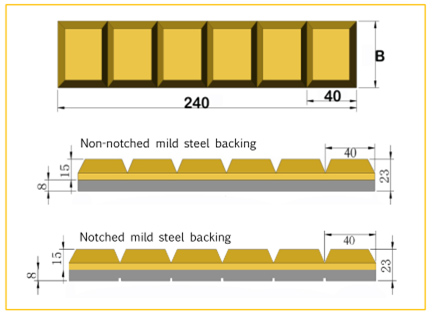 **Other dimension or thickness of 25mm is also available against your requirement.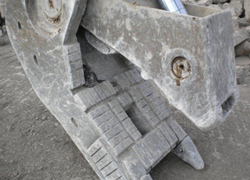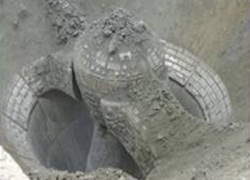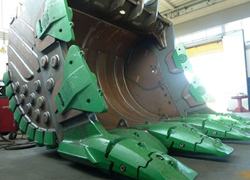 Quality Guarantee
Quality Report to be submit ahead of delivery: including Metallographic Analysis & Hardness & Chemical Composition Analysis & Welding Quality(UT) & Dimensions & G65 Dry Sand/Rubber Wheel Abrasion Test & NDT Examination/LPI. 24 month warranty on quality!
The company is certified with ISO9001:2015. We have a dedicated R&D team that can tailor various products with special requirements (such as wear resistance, corrosion resistance, impact resistance, heat resistance, etc.) and provide professional wear resistance solutions. Since its establishment, the company has carried out a lot of experiments on improving the wear resistance and composite bonding strength, various heat treatment technology on different products, and the selection of wear-resistant alloys under different working conditions. The production process and product performance are continuously optimized.