Bimetallic Chrome White Iron Wear Pipes
Hyster bimetallic chrome white iron wear pipe is produced by adopting the advanced compound casting technology. Outside material is mild steel or equivalent material, inside material is high wear resistance chrome white iron, we combine the two materials to create a product that is exceptionally resistant to abrasion and impact toughness while retaining.
We could make the pipes to straight ones, elbow ones, three direct link ones or other shaped ones.
This kind of bimetallic chrome white iron wear pipe is a very good choice for Mining, Quarry, Crushing and Dredging industries. Typically, if the application involves transporting an abrasive media, using chrome white iron significantly extends the life of the pipe, reducing downtime in the process and resulting in substantial cost savings. For example, wear life can be increased in some instances by a factor of three at least when using high chrome white iron instead of overlay plate.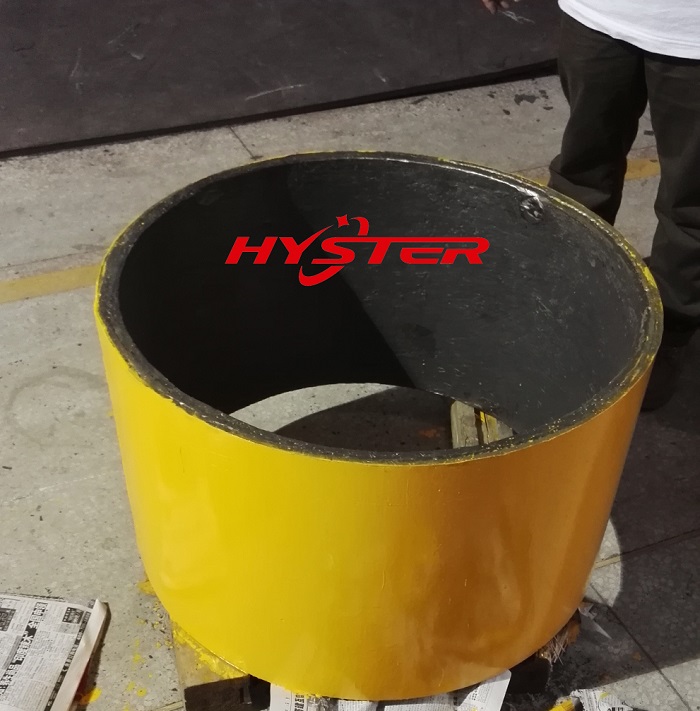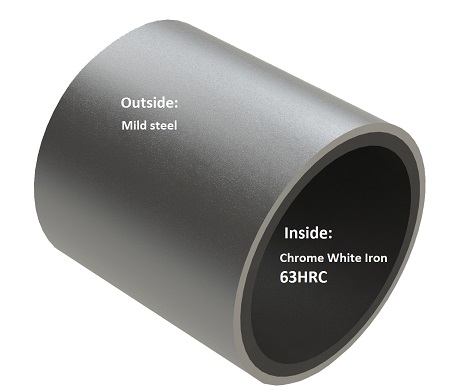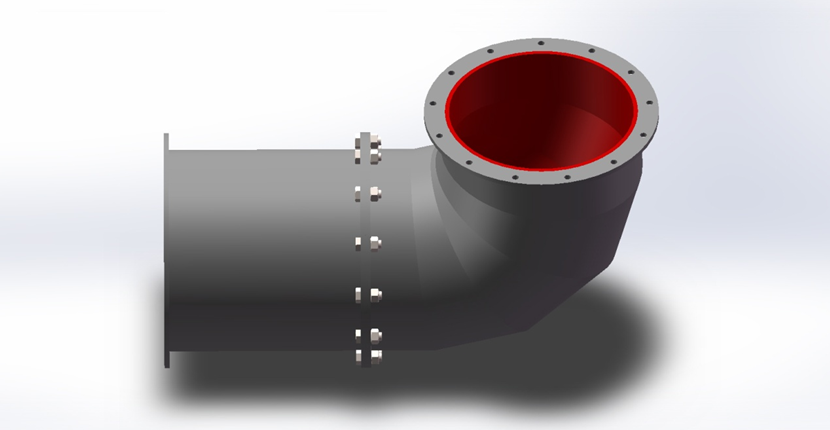 1.Main features:
1.1 Comprehensive performance is good
Chrome white iron itself has very good wear resistance performance, while it is very fragile and is not impact resistance. We solved the defectiveness by compound this material with mild steel base, which has good impact toughness, also weldable and easy machined.
1.2 High wear resistance
The inside material of the pipe is chrome white iron, its macro-hardness is above HRC55, its structure contains a lot of M7C3 type hard carbide, micro-hardness is above 1500-1800HV, then ensures a very high wear resistance.
1.3 Corrosion resistance
There are lots of Cr element distributed in chrome white iron, that increased the material's high-temperature oxidation resistance and the electrode potential, then has a good corrosion resistance for acid and alkali media.
1.4 Reasonable structure, wholly compounded
The pipe is casted as a whole, and it is directly compounded with base material during the process of casting. The inner surface is very smooth, then reduced the resistance in the process of the material transfer, the media is not easy to stickon.
1.5 Easy to transport, install
We could use flange, or simply weld together, to ensure the installation could bear a certain of hit, impact, and also do not need special packing materials during the delivery.
2. Technical Specifications
Type
Diameter(mm)
Chrome White Iron Thickness(mm)
Compound Length(mm)
Marks
Straight Pipe

<2000

20-30
1000


30-35
1500


>35
2000


Elbow Pipe
<2000
>20




Three-direct-link Pipe
>500
>25




3. Bimetallic chrome white iron wear pipes VS other wear material pipes
| | | |
| --- | --- | --- |
| Material | Defectiveness | Advantages |
| Chrome white iron (single material) pipe | Cast into shape; low impact resistance; fragile; low weldability; not easy to be machined; not easy to be installed | High hardness, contains a lot of alloy hard phase, has good wear resistance and also corrosion resistance, suitable for the application with small impact force and low installation requirements. |
| Overlay/Hardfacing pipe | Automatic surfacing weld to shape; wear layer is thin(4~6mm); has horizontal cracks; has transition layer of 1-2mm thick; the strength of the outer base material will be effected during the surfacing; wear performance is weaker during use from wear surface to the joint face; lower cost-efficient. | Totally metallurgical bond, has good impact toughness and wear resistance, could be shaped and welded, widely used, easy installed. |
| Ceramic bonded pipe | Bonded to the pipe, low breaking tenacity; low impact toughness; no integrity(joint by small pieces); fragile; failing off in bulk | Light weight, suitable for the partly application without impact force, such as transporting dry media, high wear resistance |
| Bimetallic chrome white iron compound pipe | Non-totally metallurgical bond, wear layer is rather thick, weight is heavy | Good wear and impact resistance; the wear layer thickness is adjustable; overall compounded; weldable, easy to be installed; typically suitable for the high force corrosion and wear application; safe and reliable operation; high cost-efficient. |